We went to (South) Norway over a period of 10 days in July 2011. We were 7 of us and so we rented a 9 seater van. For stays in Norway, we booked apartments. Apartments are available in plenty in Norway via booking.com and even for short stays of 1 and 2 days.
Our round trip plan was: Eindhoven – Hirtshals – (ferry) – Stavanger – Roldal – Voss – Dombas – Lillehammer – Oslo – Eindhoven. Since I had booked the ferry to cross from Denmark (Hirtshals) to Norway (Stavenger) well in advance, I had got a good price. This route is popular for their Fjords, Glaciers and scenic route. Part of my route is called the "Golden Route". If you are short of time, you can do only this route and still not miss much.
One experience in Norway was that in all our stay arrangements, there was no reception after certain hours. The keys to the apartment would be hung outside the reception with my name/apartment number written on a it. For the GPS, to be on the safer side, along with address, I also noted the co-ordinates of my stay. This was useful.
Some unique points are:
Every now and then you will have to use the ferry to get across the otherside of the waterbody on your route. 

They are quick 10 or 20 minutes rides. These ferries do not have advance booking since they are more like city bus service.

It is important to note the time of the last ferry on your route. 

Generally they are available till very late in the evening. Plan well, or you may be stuck till next day morning!
Norway is full of beautiful waterfalls – big and small. Every now and then you can see and/or hear water gushing and falling.
It was in early July that we went to Norway. Though we were in the south, it never got fully dark! There was sufficient natural light to walk around – an unique experience.
Norway has 'scenic routes' map available on the internet. I used this and the rest of internet to plan our trip.
There are a lot of tunnels. A good number of them are kilometers long!
Legally for the purpose of automatic toll payment, you are required to register your vehicle with a credit card number at a given website. Cameras installed at the toll points take a picture of your number plate and charge the credit card automatically. However many visitors with foreign number plate do not register and still get away without paying.
For apartments, you will need to carry your own linen. You can rent on the spot, but it will be expensive. You are required to clean the apartment before leaving.
Our trip started from Eindhoven. At Hirtshals, Denmark we boarded the morning ferry to Stavenger. It reached Stavenger at about 20.00. From there we drove further to Roldal for our night stay.
Stavenger: If you don't mind trekking, I have read that Lysefjord/Preikstolen near Stavenger is a place to visit. It will take about 6hours to climb up the mountain and come back, but you can experience standing at that edge of the fjord and also on a stone that is between 2 rocks.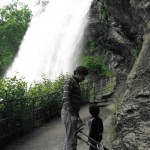 Roldal (2 nights): We stayed in Roldal Booking Apartments (very nice). Our intention was to go around the Hardanger fjord, behind the waterfalls of Norheimsund and then to Burgen. But because we stopped too often to enjoy the scenic beauty, by the time we drove around the Hardangerfjord and reached the waterfalls, it was already too late to proceed towards Burgen. So we returned to our apartment. Next day we went along a more scenic route very close to our hotel. The view of the Roldal lake and the snow that was still melting was superb!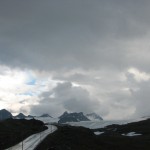 Voss (3 nights): Our hotel, though a little far, was very nice and yet economical. On one day, we went on the Flam Railway. The view outside is very beautiful. A waterfall on the way is breathtaking. The train stops at the waterfall for the visitors to take pictures.
The next day we went to Gudvangen Fjord. This is a beautiful spot for relaxing in the water with scenic view around you. On the third day, we took the route Fv243 from Aurlandvegen to Laerdalsoyri. This is a route via the mountains, a route via the glaciers and a view of the majestic glaciers around you. This was one of the most scenic days in Norway.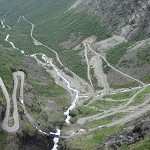 Dombass (2 nights): We reserved a day for the Golden route. We went via Trollstigen, went up the crazy route and then the Geiranger Fjord. The crazy route was a good driving experience (like the Agumbe ghats in India). Geiranger Fjord is really beautiful from the top view. We did some boating at the Fjord and drove the motor boat to see the 7 sisters waterfall. The boat rocks when a big ship passes by and the experience is unnerving, but memorable! We could not go to the Dalisnibba since it was very foggy and found it would not be worth it. With this, we were done with the Fjords in Norway!
Lillehammer (1 night): This was just a relaxing day for us with no activities or sightseeing as such. The apartment had one of the nicest views! Next day we visited Oslo and from there drove to Eindhoven via Sweden. Drove all night and reached Eindhoven in the morning!