The 5 Canary Islands though way out in the ocean and closer to Morocco, is very much part of Spain. Just to clear any doubts – the Schengen visa, residence permit etc is sufficient just as if you were visiting any other place in Spain. The Canary Islands amazingly maintains around 25C temperature all round the year with very little rainfall. So it is a wonderful destination to go to at anytime of the year.
Our round trip: home – Fuerteventura – Lanzarote – Fuerteventura – home
The 2 Islands are a must see if you love sightseeing. Apart from the wonderful weather, the 2 islands offer major volcanic areas (makes you feel you are probably in the Moon or Mars), sand dunes, landscape views, cactus gardens, long sandy beaches etc.
Day 1: Landed in Fuerteventura and rented a car. Our hotel was in Corollejo city because this was the most popular town around, close enough to the airport, had ferries to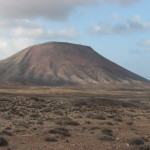 Lanzarote and even had some Indian restaurants! Since we landed at 10.00 AM, we took a round about route driving towards Tindaya mountain (driving via Vallebron region). While the mountain itself was not very impressive, the drive was scenic. The route winds thru a desert mountain range. Just make sure you have a full fuel tank before you start driving. Every now and then you will stop for pictures. Later in the evening we reached our hotel – Hesperia Bristol (old, but a convenient one with pool/sea view) and went out by foot for a nice city walk and dinner.
Day 2: Woke up early in the morning, cooked breakfast and took a 10.00AM ferry to the Lanzarote Island along with our car for a day trip to this island. The crossing is only about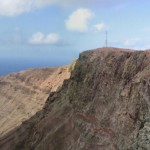 30 minutes or so and lands in Playa Blanca. This island is among the best places of Europe for me. Our route was: Los Hervideros, El Golfo, Timanfaya National Park, Jameos del Agua (skip this if you are short of time), Mirador del Rio (do not miss this!) and back to Playa Blanca/Corralejo for dinner in a good Indian restaurant outside the port. (Note: If you plan to stay overnight in the island, you can add the cave of Los Verdes and the cactus garden to your list).
Timanfaya will take about 2 hours time and is a wow factor! The only restaurant in this volcanic park cooks its meat from the heat coming from the ground below!! The ground is so hot that when a gaurd pours water into a dry borewell, it bursts back as steam in a few seconds. The 45 minutes bus takes you thru some of the most crude and charred form of landscape. You must to see it to believe it!!
Day 3: This day was for the  beaches and sand dunes. When driving from Corralejo towards the airport, you get a number of beaches on the left and sand dunes to the right. The beaches are very nice and some of them have surfing possibilities. There are some shops with trainers and equipment available for rent. At some point, we just stopped on the road side and walked in the sand dunes. The curves of the dunes was a nice and funny experience!
Day 4: Back home!!
Day 2 on the map:

View Larger Map