We went to Switzerland by car over the 4 days Easter long weekend in April 2011.
Our round trip drive was: home – halt at Freiburg (Germany) – Interlakken – home.
In Swiss our plan was: Schilthorn, Engleberg, Brig – Zermatt – Brig by train, Grindelwald.
Variations possible: add a drive along Grimsel/Furka/Susten, mild trek in the Altesch glacier, Verzasca valley for clear water river with bungy jumping possibility!
Stay: Interlakken: Landhotel golf – very nice, away from city, restaurant was good
Innertkirchen: Ufem Egg (apt for 6 to 10 people) – wonderful; search no further!
Note:
The 3 major mountains are: Jungfrau, Titlis and Schilthorn. Most important is to have a 'clear sky' weather prediction, to enjoy the beautiful views at the top of the mountains. If it is foggy, your view is at the mercy of the fog.
Swiss has 3 popular passes: Grimmsel, Furka and Susten. The 3 together form a closed loop from Innertkirchen. Oh man!!…these are must drive/see. This 120Kms is worth a days trip just for the scenary. Mid way on the Furka, there is an Ice cave that goes about 100mts into the glacier (take a jacket). Due to snow conditions, this route is open only from mid June to October. I did this on a different trip.
If you are driving, a Swiss highway pass (vignette) needs displayed on the front windshield of the car. It costs about € 35 and is valid for the full calendar year. It can be bought at a gas station about 5Kms before the border, at the border itself or even in ANWB in Netherlands.
Day 1: We left from home on Thursday evening and halted in Freiburg, Germany. I got my experience of a police catch in Germany and I was who they were chasing!! This is how it unfolded….as I was driving, an unmarked police car overtook me, came back to my lane and started flashing a sign 'Police, Follow Me'!! I just followed and after about 10 minutes of driving, the car ahead took an exit and stopped. I stopped behind it. That's when I realized, I was being followed by 2 more unmarked police cars! One stopped right behind mine and the other right next to my car…probably to avoid me from taking off 🙂 Immediately one of the policemen came to me and asked me to show me the passport. I showed the passport of me and family and the police said 'Okay….Go'!!! That was it!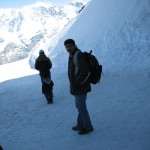 Day 2: We proceeded to Interlakken. It is the central point to many tourist attractions and hence made sense to make it the base (tip: if hotels in Interlaken are expensive, try Innertkirchen). We chose Schilthorn since prediction was "clear sky" for the afternoon. You can reach the base of the mountain by car or bus. From the base, take the cable car to go to the top of the mountain. The cost for the cable car is about € 65 (if you buy the tickets in Interlakken, the price could get cheaper. check in Google). On the way to Schilthorn, the cable car stops at a couple of places. Get out at Murren and the other stops and take a stroll. It is very scenic. The picture above is from Schilthorn. The mountain has a revolving hotel at the top.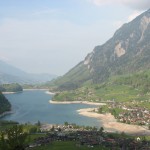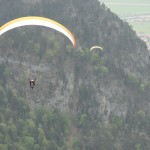 Day 3: We did paragliding and then a visit to Engleberg. The paragliding company picked us up from our hotel, drove up the mountain and glided down to the Interlakken city from there. The weather needs to be right for this as well. If rain is predicted, it is not allowed to paraglide.

The route from Interlakken to Engleberg is very scenic. It is also the route to Mt Titlis. First you drive along Lake Brienz. Then you drive down a mountain. In this route you will find lot of greenery, off track roads to beautiful yellow flower meadows, a view point from where you can see a whole village around a lake in a valley below. When we reached Engleberg, we took a narrow 1 lane road up the mountain. It first went thru a forest and then opened up into fully green mountain. This was one of the best points we just landed upon by luck.
Day 4: We wanted to do the Brig to Zermatt section by the glacier express. But for some reason, we could not manage this. We still took a train that had lot of glass for a scenic view. Honestly, this was not impressive enough. However the Matterhorn mountain at Zermatt is very majestic. We wandered around Zermatt and then returned to Interlakken.
Day 5: Grindelwald. The route is very scenic. At the top, there is a walking path further up the mountain. This is very beautiful. We walked about 1Km and then turned back. Late afternoon, it was time to drive back home!