We went to Rome over the New year weekend of 2009-2010. The weather was cool and just right for sightseeing! It was also our first travel since coming to Europe!
Our round trip was home – Rome – Florence – Pisa – home.
Variation possible: Pompei – the city near Rome ruined by volcanic ash from the nearby Mt. Vesuvius in just a few hours in 76AD is worth a day's visit. Pompei + top of Vesuvius can be done in 1 day. Pisa is cold in December. Also, if it is not winter, an option is to include Venice making it Rome – Venice – Pisa (via Florence) triangle.
Stay:
Rome – we stayed in the outskirts. But it took a lot of time and money to commute to the city. I suggest to stay near a metro station. I book online via booking.com.
Rome is full of ancient attractions and ruins. We loved the city! Anywhere and everywhere it is Roman ruins. It was like visualizing the history books from the school days and the Asterix comics for me! You will need 3 days to cover the major attractions! Also, if it is winter time, Sun rises at 8:00AM and sets by 4:45PM. So the key for a successful coverage is to be in the first sightseeing place as early as possible. Staying close to a metro station helps.
We did Rome in 2 days in a rush, but would recommend 3 days.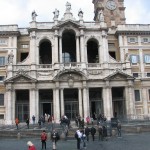 Day 1: Santa Maria Maggiore, Roman Forum, the Collesium (last entry is 3.30PM in winter), Terme di Caracalla, San Giovanni in Laterano.
Day 2: The vatican museum, St. Perter's basilica and Sistine Chappel  (if the line is long, buy a guided tour that will allow you to skip the line at a slightly premium price). The Vatican city, Pantheon, Piazza Venizia, Trevi fountain.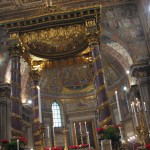 The Spanish steps is optional. While everyone flocks to Spanish steps, there is really nothing much there except the steps!!
The city is just amazing and cannot be described in words. Every part of the city has some ruins and speaks volumes of the history. The decoration in the churches, the architecture/grandeour/painting/sculptures/ruins all beat one another.  It is a MUST VISIT city of Europe.
Some of the metro stops I remember are:
City center – Termini (this station is huge, being the single point for metro trains, suburb trains, international trains, airport transfer trains and city bus station. One end to other end is over 1 Km and has 3 levels)
Collesium+Roman Forum – Colosseo – has entry fee (i think 20euro, not sure)
Vatican city – Ottaviano – no entry fee
Vaticam museum+sistine chappel – musei vaticani – has entry fee (i think 16 euro)
Spanish steps – Spagna – no entry fee
Trevi fountain – Barberini – no fee
San Giovanni – San Giovanni – no fee
Maggoire – Cavour or Termini – no fee
Venezia – no metro access (but within 2km walk from collesium) – no fee
Pantheon – no metro access – no fee
The good thing about Rome is that city maps are available free in a lot of places. Locate Termini on the map and navigate yourself from there.
There are many hop-on-hop-off tour operators (euro 20 for 24 hrs, 30 for 48hrs) running buses from 9AM to 6PM in winter. This could reduce the walking by about 50%. But Greenline tours was not a nice experience for me since I spent lot of time just waiting for the bus.